Drawn steel bar
Surface treatment of raw steel bar is carried out with shot blasting or pickling, after which it goes through the drawing machine in a cold drawing process, followed by straightening and finally, cutting for the finished product.After the surface treatment of raw wire material, the material goes through a drawing machine in a cold drawing process, followed by straightening and cutting. This is done in an integrated, continuous bar mill, producing polished steel bar in a cold extrusion process. In a similar continuous extrusion process, Sango is also capable of producing cold drawn pipe from PIC (Pipe in Coil) raw material.
Outline of the process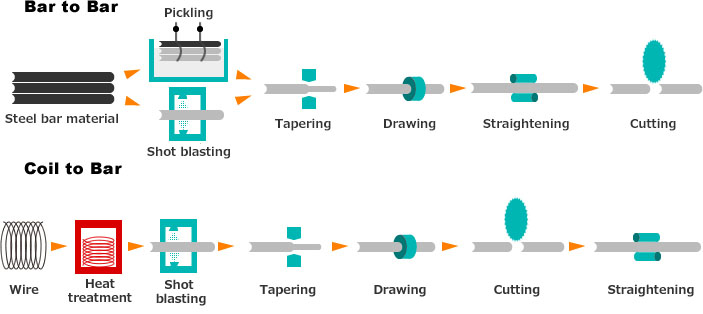 Bar turning / Polishing
Machined in a bar turning process by a peeling machine, these polished steel bars are precision products, from which surface imperfections such as scratches and carbonization are removed from the steel material. In another process, the bar is machined in a centerless grinder over long lengths without the need to cut it. The resulting polished and ground steel bar makes more precise processing possible in the following process.
Outline of the process

Cold forged bars
Cold forging is a waste-free type of forging whereby material can be formed by causing a plastic flow in the material at room temperature, thus making it the least expensive, as well as the most energy-efficient ("eco-friendly") forging process.
An important key to manufacturing high quality cold forged products is the process design. It is necessary to identify the true essence of each product and select the optimal material, manufacturing method and equipment for that product. The analysis of a vast store of data accumulated over long years of experience in the field and a correct understanding of the meaning of the analysis results allows us to stay one step ahead in coming up with ideas, which only then can become a practical solution in the form of optimized process design.